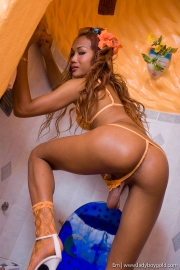 Potty Girl
Ladyboy Em has a fetish for bathrooms. One of Em's favorite things is to take the water nozzle in a bathroom and spray cool water deep inside her bowels. The cool...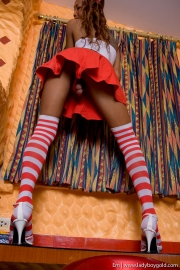 Candy Cane
Em's Ladyboy legs look like delicious pieces of candy in these red and white striped stockings! Em shows off her giant sexy balls in upskirt shots and makes her cock...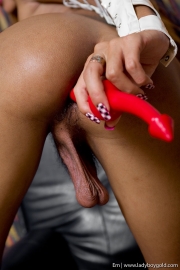 Red Tail Toy
Wearing white vinyl booty shorts, Em's large cock and balls slip out the front for easy access! But what Em really wants is something hard and deep inside her Thai...
Ladyboy a-Go-Go
Even though Em is a shy little slut, she fantasizes about dancing in a go-go. Holding onto the chrome pole like it's a hard cock, Em dips and lowers her ass to her...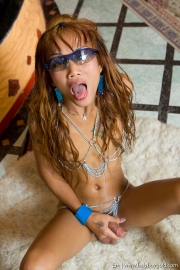 Swinging Slut
Em likes being a submissive Labyboy sex slave. With her cock and small tits loosely covered in a chain bikini, Em climbs in a sex swing. All her sexy holes are ready...