Anal Ice Cube
Kai shoves a freezing cold ice cube all the way up her ass, then tastes the flavor! Amazing view of Kai's giant hanging sack from behind. You can see Kai's pierced...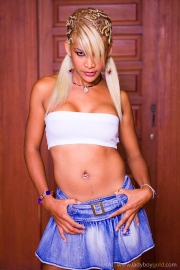 Denim Butt Plug
Kai raises her sexy denim skirt and sits down on a big butt plug, not stopping until it's all the way inside. When Kai lifts her skirt she gives a hot view from the...
Deep Inside
Kai rips open the front and back of her black fishnet pantyhose and impales her well-used Ladyboy asshole on a HUGE cock! The entire shaft slides into Kai's riveted...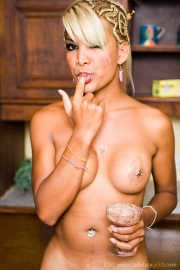 Chocolate Sex
Kai pours chocolate ice cream all over her cock and nuts. Kai is barefoot and nude in the kitchen with only her sexy piercings on. After tastes of the ice cream Kai...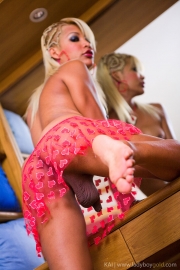 Glorious Gaper
Kai fingers her loose butthole in red heart lingerie, then spreads her beautiful gaping ass WIDE OPEN with four fingers. Kai isn't wearing any panties to get in the...